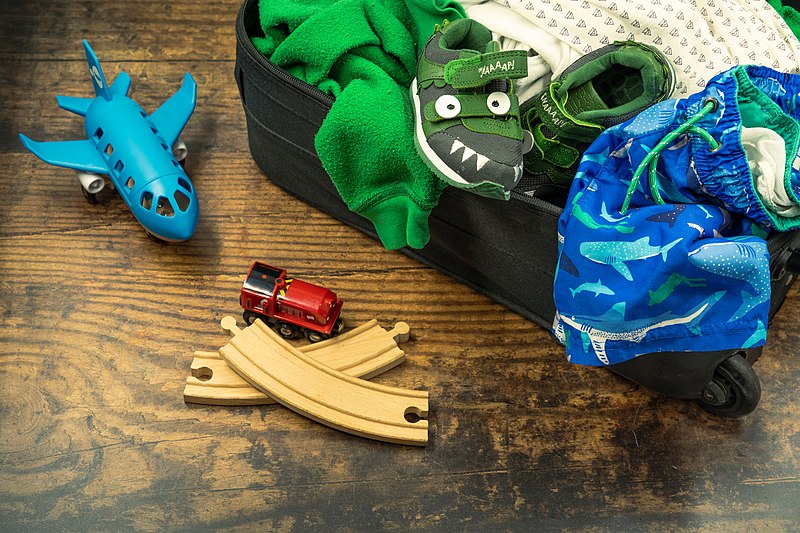 It's a struggle to find a flight these days that includes hold luggage within the ticket price. We may have found this manageable for a weekend city break in Europe, but a longer trip to a destination further afield is more difficult. I'll be visiting friends in New Jersey for a week with only hand luggage later this month, and this is my plan to fully utilise the space.
1. Maximise the space you have
The allowance for my flight is 1 hand luggage bag and 1 personal item. I have a good 4 wheel suitcase in the correct size, and I'll be using a rucksack that's just within the measurements for the personal item. Previously I would have taken my handbag as the personal item, but you really need more space if you're flying without hold luggage!
2. Pack a minimalist capsule wardrobe
Packing mix-and-match items that all work together is a great idea whatever space you have, but when you need to squeeze it all into a smaller space, a capsule is for the best! I'm packing 1 pair of cotton trousers, 1 pair of shorts, and a top for each day. The weather will be nice enough that I won't need knitwear or a jacket for warmth, so I'm packing a lightweight pack-a-mac in case it rains. For shoes, aim to fly in your bulkiest pair, and pack your smallest shoes as tightly as possible.
3. Liquid allowance
If you're travelling hand luggage only you're at the mercy of the liquids allowance of your departure and arrival airports. For most countries, this is up to 1L in total, with each individual item being no larger than 100ml. In the UK, most airports are insistent on it fitting into a specific zip lock bag, which I personally find impossible to fit the full 1L of liquids into with all the packaging!
My big tip for liquids is to consider what you really need!
Do you really need to do your full skincare regime whilst away?
Do you need 100ml of a product, or could you take less in a smaller container?
If you're travelling with your family, could you make some of the liquids communal? Shared shampoo, body wash, after sun, etc.
Does your product come in bar form? Solid products like soap don't count as a liquid.
Are you able to pre-order items to collect at the terminal? Most terminals have a Boots where you can order full size products to collect once you've gone through security. If you're travelling to a sunny destination, a full size sun cream is probably a good idea!
Would it be easy to purchase upon arrival? If you're on the fence about bringing a specific product, think about how easy it would be to get once you reach your destination.
Does your hotel provide free toiletries?
4. Multi-purpose products
If you're low on space, a great idea is to consider if there is an alternative, multi-use version of what you need. If you're bringing an iPad and a kindle, could you just use the kindle app on your iPad? If you have time, look into whether your library has an app where you can read e-books from your phone or tablet.
If the weather is expected to be fair, a large scarf is a great option instead of bringing a cardigan or jacket – it will keep the sun off your skin in the day, and keep you warm in the evenings.
Look into converter plugs that will charge multiple devices at once, this way you will only need to bring 1 plug and your charging wires, and will save you bringing unnecessary plugs.
5. Compression packing cubes
Compression packing cubes are the vacuum bags of travel essentials! They're simple to use, and fairly inexpensive to purchase. Simply put your clothes into the packing cubes, and zip up the compression zip to squash your clothes into as small a place as possible! Not only do they keep your clothes clean in your suitcase, but they help keep you organised.
Do you have any other tips for travelling with just hand luggage?