As we head towards the summer months and wedding season approaches, many people have wedding anniversaries on the horizon. My parents, who have been married for nearly 40 years, have always given the traditional anniversary gifts for each year – and this is something I would like to do to!
I've come up with 5 great ideas for the first 5 wedding anniversaries, reply in the comments with your favourite ones!
1st Anniversary – Paper
Paper symbolises delicacy and strength.
Posters – we collect vintage-style travel posters from significant locations, see if you can find one for the area of your wedding venue or honeymoon.
Prints of special words from your day – A simple DIY project, or there are many talented people online who provide this service for the non-crafty among us. Hand write, or type up in a beautiful font, something special from your wedding, whether it's the lyrics to your first dance song, or hand written vows made to each other.
Calendars or Photo Albums – get a custom made calendar or album of photos from your wedding or honeymoon
Love letters – after splurging on your big day, a budget anniversary present with a lot of sentimental value may be a perfect gift
Tickets – If you prefer to give or receive experiences, tickets to do something together is a great choice.
2nd Anniversary – Cotton
Cotton symbolises flexibility and strength
Cotton flowers – A cotton flower bouquet similar to the flowers from your wedding would make a great long-lasting gift.
Fragrances – cotton scents are popular in candles and perfumes, and will make a fresh smelling and unexpected gift!
Personalised towels or pillows – Towelling and bedding are often made from cotton, and there are many sites online where you can purchase custom embroidered or printed hand towels or pillows with your names or initials on.
Personalised wedding cross stitch – there are a good number of cross stitch patterns or kits available to commemorate your love – with customisable elements for your names and dates
Craft classes – An experience makes a great gift, so why not find a craft class locally where you can learn to knit or sew with cotton together!
3rd Anniversary – Leather
Leather symbolises durability and resilience.
Fragrances – like cotton, leather scents are popular for perfumes and candles.
Leatherwork classes – Doing a class together is like a gift and date night rolled into one! Have a look to see if there are any leather workers nearby who do classes in making leather goods, or in tooling or embossing on leather.
Leather-bound journal – If you're married to a diarist, new leather-bound journal could be a perfect gift.
Leather grill apron – Leather gifts tend to involve purses and handbags, so a grill apron is a fantastic masculine option.
Luggage and travel items – If you're a couple who love to travel, leather travel items can be ideal for any price point. Personalised luggage tags or wash bags are fantastic long-lasting gifts, or a beautiful overnight bag or suitcase if budget allows!
4th Anniversary – Linen or Silk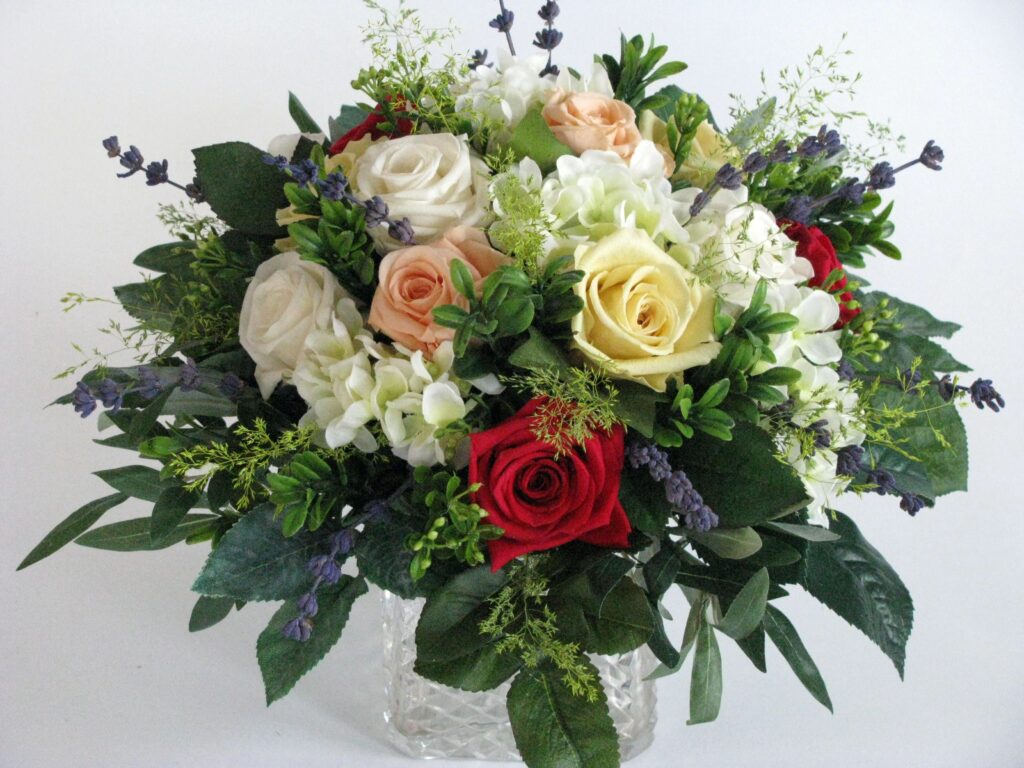 Linen symbolises purity and honesty within marriage. Silk symbolises the connection between a couple.
Linen embroidered items – Like cotton, linen is perfect for a creative gift. If you are able to cross stitch or embroider, choose a personalised design on linen for a thoughtful gift.
Silk pyjamas – A classic pair of silk pyjamas is a luxurious present for him or her.
Fragrance – Like previous gift ideas, Linen is a popular scent used for home sprays and perfumes. Linen is a clean-smelling scent with musky undertones.
Silk flowers – As before with cotton flowers, a silk flower bouquet is a long-lasting tribute to your wedding flowers.
Bedding – Linen and Silk are luxurious choices for bedding, from duvet sets to silky pillows. Why not choose them in your wedding colours as a nod to your special day?
5th Anniversary – Wood
Wood symbolises the solidity and strength of your marriage.
Pyrography classes – Pyrography is the art of burning designs into wood. If you're a creative couple, this could be a great choice to create something special together.
Personalised kitchen wear – There are a number of wooden items you can have personalised with your wedding date or initials, including egg cups, cheese boards, wooden spoons, and chopping boards.
Outdoor items – wooden garden items could be a great idea for your green-fingered spouse. Wooden planters with their favourite seeds, wood-handled tools, or wooden seating are all perfect choices.
Personalised wooden home items – Homeware like photo frames, keepsake boxes and decorations are great ideas to add a personalised touch to.
Fragrance – Another great fragrance gift! Wood perfumes and candles are widely available in fragrances such as sandalwood, cedar, and patchouli.